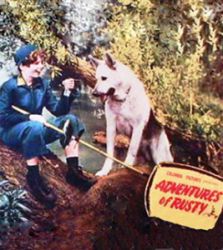 Ace The Wonder Dog
Saksanpaimenkoira Ace oli 40-luvulla useissa elokuvissa esiintynyt Rin-Tin-Tinin haastaja. Ace oli myös ensimmäisen Rusty-elokuvan koiratähti.
Blind Alibi (1938)
Orphans of The Street (1938)
Home On The Range (1938)
Almost A Gentleman (1939)
The Rookie Cop (1939)
Girl From God's Country (1940)
The Girl From Alaska (1942)
War Dogs (1942)
Silent Witness (1943)
Headin' For God's Country (1943)
The Phantom Film Serial (1943)
The Monster Maker (1944)
The Adventures of Rusty (1945)
Danny Boy (1946)
God's Country (1946)
---
Takaisin etusivulle
---
Koiraelokuvat.info is a non-commercial, non-profit fansite for information purposes only. No copyright infringement intended. All titles, characters, cover pictures and other images are © their respective owners.