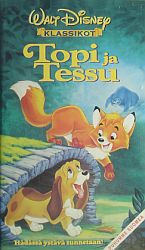 Topi ja Tessu
(The Fox and The Hound, Disneyn animaatioelokuva vuodelta 1981)
Topi ja Tessu on Daniel P. Mannixin romaaniin pohjautuva elokuva punaketusta ja ajokoirasta. Topi on orvoksi jäänyt ketunpentu, jonka hyväsydäminen Selma-täti ottaa asumaan luokseen. Tessu taas on tuleva ajokoiralupaus, joka harjoittelee vainuamista yhdessä omistajansa, kiivaan Aatu Remusen, ja tämän vanhemman metsästyskoiran Pösön kanssa. Eräänä päivänä Topi ja Tessu kohtaavat metsässä. Heistä tulee mitä parhaimmat ystävykset, eivätkä he itse eivät näe kaveruudessaan mitään kummallista.
Talven tultua Tessu matkustaa isäntänsä kanssa pois. Palatessaan takaisin se on varttunut täysikasvuiseksi ajokoiraksi. Myös Topi on kasvanut aikuiseksi. Selma-täti vie Topin luonnonsuojelualueelle, missä se olisi turvassa Aatu Remusen vainolta. Tästä huolimatta Topi ja Tessu kohtaavat uudelleen - tällä kertaa luontaisina vihollisina.
VHS-julkaisu: Suomi
DVD-julkaisu: Suomi
---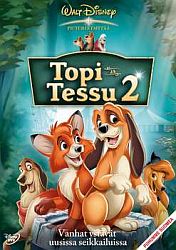 Topi ja Tessu 2
(The Fox and The Hound 2, animaatioelokuva vuodelta 2006)
Jatko-osassa seurataan lisää Topin ja Tessun pentuaikojen yhteisiä seikkailuja. Tessu tuntee olevansa epäonnistunut ajokoirana. Tutustuessaan maatilamessuille se päätyy vahingossa esiintymään yhdessä 'Laulavien kulkureiden' kanssa. Tämä koirien muodostamana laulukuoro havaitsee Tessussa uuden lupaavan kyvyn, ja se saa vakiopaikan yhtyeessä. Tessun keskittyminen esityksiin aiheuttaa Topissa hylätyksi tulemisen tunteita, eikä laulukuoron alkuperäinen päätähtikään, diivaileva koiraneito Nelli, ole tyytyväinen jouduttuaan syrjäytetyksi.
DVD-julkaisu: Suomi
---
Takaisin etusivulle
---
Koiraelokuvat.info is a non-commercial, non-profit fansite for information purposes only. No copyright infringement intended. All titles, characters, cover pictures and other images are © their respective owners.