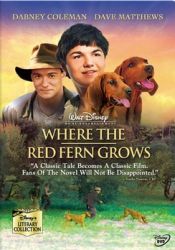 Where The Red Fern Grows
(perhe-elokuva vuodelta 1974/2003)
Wilson Rawlsin klassikkoromaanista Where The Red Fern Grows on tehty useita filmatisointeja. 1930-luvun ja Suuren laman aikaan sijoittuva tarina kertoo 10-vuotiaasta Billy Colemanista, jonka suurin unelma on omistaa metsästyskoira. Rotukoirat ovat kuitenkin arvokkaita, joten Billy joutuu työskentelemään uutterasti saavuttaakseen tavoitteensa. Lopulta hänen onnistuu säästää riittävästi rahaa kahteen redbone coonhound -rotuiseen pesukarhukoiran pentuun, jotka saavat nimet Old Dan ja Little Ann. Billy alkaa opettaa koirilleen pesukarhun metsästystä. Pian ne kehittyvät seudun parhaiksi pesukarhunjäljittäjiksi ja turkiksista saatavat myyntitulot ovat suureksi avuksi Billyn perheelle. Koiriensa ja metsästysharrastuksen myötä Billy kohtaa myös vaikeita ja kasvattavia sattumuksia.
'Where the red fern grows' viittaa amerikanintiaanien kertomaan tarinaan kahdesta lapsesta, jotka eksyivät lumimyrskyssä ja paleltuivat kuoliaaksi. Kun lapset seuraavana keväänä löydettiin, heidän ruumiinsa oli peittänyt pyhänä kasvina pidetty 'punasaniainen'. Kyseistä red fern -kasvia ei oikeasti ole olemassa.
DVD-julkaisu: ainakin USA
Kuvagalleria uudemmasta elokuvasta
---
Takaisin etusivulle
---
Koiraelokuvat.info is a non-commercial, non-profit fansite for information purposes only. No copyright infringement intended. All titles, characters, cover pictures and other images are © their respective owners.