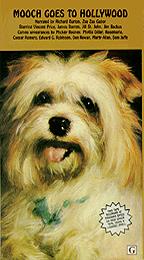 Mooch Goes To Hollywood
(perhe-elokuva vuodelta 1971)
Mooch Goes To Hollywood on elokuva Mooch-nimisestä tyttökoirasta, jonka tavoitteena on elokuvatähden ura ja kuuluisuus. Koditon Mooch kiertelee Hollywoodissa etsien sopivaa tilaisuutta näyttää kykynsä. Se kokeilee onneaan jopa Playboy-pupuna, mutta lentää yleensä kaaressa ulos studiosta kuin studiosta. Filmitähtien piireissä on tärkeää tuntea oikeat ihmiset, joten Mooch ystävystyy lukuisten aikakautensa elokuvajulkkisten kanssa.
Mooch...on oikeastaan alkuperäinen Benji eli koiranäyttelijä Higgins The Dog.
VHS-julkaisu: USA
DVD-julkaisu: USA, Canines In Film-kokoelmaboksissa
---
Takaisin etusivulle
---
Koiraelokuvat.info is a non-commercial, non-profit fansite for information purposes only. No copyright infringement intended. All titles, characters, cover pictures and other images are © their respective owners.