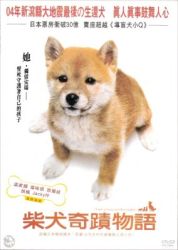 A Tale of Mari And Three Puppies
(Mari to koinu no monogatari, draamaelokuva vuodelta 2007)
A Tale of Mari And Three Puppies on tositapahtumien innoittama tarina shibaperheestä katastrofin keskellä. Eräänä kesänä sisarukset Ryota ja Aya löytävät metsästä hylätyn koiranpennun, joka lähtee seuraamaan lapsia. Pennun eksyttäminen osoittautuu mahdottomaksi, joten pian Mariksi nimetty shibatyttö muuttaa asumaan heidän luokseen Ayan suureksi iloksi. Myöhemmin perhe kasvaa vielä Marin kolmella pienellä pennulla.
Eräänä päivänä alueen eläimet alkavat käyttäytyä kummallisesti. Ne vaistoavat tulevan vaaran. Koppinsa edessä levottomana haukkuva Mari ei saa varoitettua ihmisperhettään - seuraavassa hetkessä voimakas maanjäristys paiskaa koiran seinään ja romahduttaa talon. Aya ja perheen isoisä jäävät loukkuun raunioihin. Pelastustyöntekijät paikalle johdattanut Mari pentuineen jätetään kuitenkin helikopterin kyydistä selviytymään omillaan.
Useita päiviä myöhemmin Aya näkee uutisjutun maanjäristysalueella liikuskelevasta tutusta koirasta. Vaikka kaupunki on yhä sekasorron vallassa ja kulkuyhteydet perheen entisen talolle ovat poikki, päättävät Ryota ja Aya lähteä kiertotietä hakemaan Marin ja pennut turvaan.
Todellinen Mari synnytti kolme pentuaan Japanin Nagaokassa lokakuussa 2004 maanjäristyksen päivänä. Kaikki neljä koiraa löydettiin hyväkuntoisina tyhjäksi evakuoidulta alueelta kuusitoista päivää myöhemmin.
DVD-julkaisu: ainakin Japani

Kuvagalleria
Play-Asia.com on hyväksi havaittu japanilaisten koiraelokuvien nettikauppa.
---
Takaisin etusivulle
---
Koiraelokuvat.info is a non-commercial, non-profit fansite for information purposes only. No copyright infringement intended. All titles, characters, cover pictures and other images are © their respective owners.