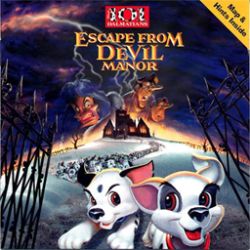 101 Dalmatians: Escape From DeVil Manor
(kehittäjä: DreamForge Intertainment, 1997)
101 Dalmatians: Escape From DeVil Manor on ensimmäiseen näyteltyyn 101 dalmatialaista-elokuvaan perustuva seikkailupeli tietokoneelle. Pelissä ohjataan dalmatialaispentuja, jotka etsivät pakotietä Cruella DeVilin kartanosta.
---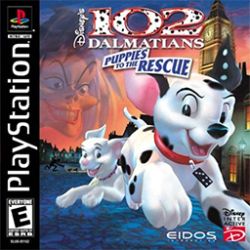 102 Dalmatians: Puppies To The Rescue
(kehittäjä: Crystal Dynamic, 2000)
102 Dalmatians: Puppies To The Rescue on PlayStationille, Dreamcastille, Gameboy Colorille ja tietokoneelle julkaistu tasoloikkapeli, jonka juoni mukailee löyhästi näytellyn 102 dalmatialaista-elokuvan tapahtumia. Pelaaja valitsee alussa koirapelihahmokseen Dominon tai pilkuttoman Lumipallon. Tehtävänä on pelastaa lukuisiin eri pelikenttiin piiloutuneet dalmatialaispennut Cruella DeVilin kätyreiltä ja kohdata lopulta itse Cruella tämän omistamassa lelutehtaassa.
---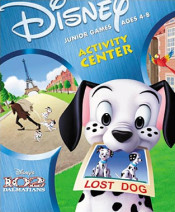 102 Dalmatians: Activity Center
(kehittäjä: Disney Interactive Studios, 2000)
102 Dalmatians: Activity Center on Disneyn dalmatialaisanimaatioihin perustuva lastenpeli tietokoneelle. Peli sisältää koiranpentuihin liittyviä minipelejä. Alussa pelaaja adoptoi itselleen oman pennun, joka seuraa mukana erilaisissa hiirikättä, luovuutta ja ongelmanratkaisukykyä treenaavissa tehtävissä. Tavoitteena on mm. suunnitella oma luomus koiramaailman Dogue-lehteen, jäljittää vihjeiden perusteella koirannappaajajengin johtaja ja ruokkia kaikki 102 nälkäistä dalmatialaispentua ennen kuin ne ehtivät tehdä selvää Cruella DeVilin keittiöstä.
---
Takaisin etusivulle
---
Koiraelokuvat.info is a non-commercial, non-profit fansite for information purposes only. No copyright infringement intended. All titles, characters, cover pictures and other images are © their respective owners.