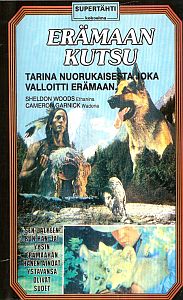 Cry To The Wind
(seikkailuelokuva vuodelta 1979)
Cry To The Wind on elokuva Pohjois-Amerikan tasankoerämailla seikkailevasta pojasta ja hänen kolmesta sudenpennustaan. Tarina ei siis suomennetusta nimestään huolimatta liity Jack Londonin romaaniin. Tapahtumat sijoittuvat 1800-luvun puolivälin Yhdysvaltoihin, missä uudisraivaajahenki vetää ihmisiä muuttamaan tuntemattomille seuduille. Myös Jukesien perheen vanhempi poika Wade lähetetään edeltäpäin Oregoniin hankkimaan sopivaa maatilkkua. Kun nuorempi veli Ethan ja poikien isä lähtevät myöhemmin ratsain kohti Oregonia, kaksi intiaaneiksi naamioitunutta roistoa saartaa heidän leirinsä. Roistot tappavat Ethanin isän, perheen koiran sekä lähistöllä liikkuneen suden, mutta Ethan pääsee pakoon piiloutumalla sudenpesänä toimivaan maaluolaan.
Tilanteen selvittyä Ethan pakkaa kolme pientä, orvoksi jäänyttä sudenpentua mukaansa ja suuntaa intiaanijahtiin aikeenaan verikosto. Misty, Trouble ja Lady kasvavat uudessa laumassaan nuoriksi susiksi ja aiheuttavat Ethanille harmin lisäksi huvitusta. Laupeudentyö palkitaan, kun laumanjohtajalleen uskolliset sudet pelastavat Ethanin vihollisten kynsistä.
VHS-julkaisu: Suomi, nimellä Erämaan kutsu

---
Takaisin etusivulle
---
Koiraelokuvat.info is a non-commercial, non-profit fansite for information purposes only. No copyright infringement intended. All titles, characters, cover pictures and other images are © their respective owners.