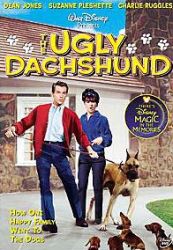 The Ugly Dachshund
(Disneyn komediaelokuva vuodelta 1966)
The Ugly Dachshund on elokuva tanskandoggiuroksesta, joka uskoo olevansa mäyräkoira. Kun erään pariskunnan mäyräkoiranarttu synnyttää pentueensa eläinlääkäriasemalla, mukaan piilotetaan vastasyntynyt tanskandogin pentu, joka on joutunut emonsa hylkäämäksi. Huijaus tulee pian ilmi, mutta tämä Brutukseksi nimetty koiranpentu saa kuitenkin jäädä asumaan perheeseen.
Kolmen mäyräkoirasiskonsa kanssa aikuiseksi kasvanut Brutus ei ymmärrä olevansa soveltumaton pieneksi seurakoiraksi, ja sisarukset saattavat Brutus-raukan kerta toisensa jälkeen vaikeuksiin. Lopulta koirien ihmisomistajat päättävät viedä Brutuksen koiranäyttelyyn. Ehkä se hyväksyisi todellisen olemuksensa nähdessään muita oman rotunsa edustajia.
TV-esitys Suomessa: nimellä Hassut tassut
DVD-julkaisu: ainakin USA
---
Takaisin etusivulle
---
Koiraelokuvat.info is a non-commercial, non-profit fansite for information purposes only. No copyright infringement intended. All titles, characters, cover pictures and other images are © their respective owners.