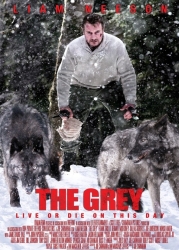 The Grey - suden hetki
(The Grey, toimintaelokuva vuodelta 2012)
The Grey - suden hetki on amerikkalainen toimintaelokuva, jossa öljynporaajia kuljettava lentokone tekee pakkolaskun keskelle Alaskaa. Nälkäisten susien lauma ahdistelee metsästysreviirilleen ilmestyneitä miehiä.
DVD-julkaisu: Suomi
Blu-Ray-julkaisu: Suomi
---
Takaisin etusivulle
---
Koiraelokuvat.info is a non-commercial, non-profit fansite for information purposes only. No copyright infringement intended. All titles, characters, cover pictures and other images are © their respective owners.