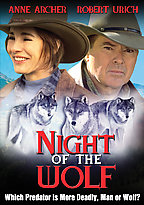 Night of The Wolf
(seikkailuelokuva vuodelta 2003)
Night of the Wolf on elokuva leskinaisesta ja hänen pojastaan, jotka kumpikin joutuvat tahoillaan tekemisiin pelottavien luontokappaleiden kanssa erämaan keskellä. Claire McNichol on maatilan emäntä, joka kaipaa takaisin kaupunkiin. Hänen poikansa Jesse taas arvostaa villiä luontoa ja suunnittelee ryhtyvänsä isänsä tavoin riistanvartijaksi. Ollessaan ratsastusretkellä Claire kohtaa ansalankaan jääneen naarassuden. Clairen hevonen säikähtää sutta, heittää Clairen selästään ja pakenee paikalta. Claire loukkaa pudotessaan jalkansa, eikä pysty kävelemään. Hänen täytyy rakentaa leirinsä villieläimen lähelle.
Ihmisen läsnäolo hermostuttaa sutta, mutta vähitellen se rauhoittuu eikä enää pidä Clairea välittömänä uhkana. Claire tarjoaa tälle hänen laillaan satimessa olevalle eläimelle vettä ja syötävää vähistä varastoistaan. Samaan aikaan Jesse huolestuu nähtyään Clairen hevosen palaavan yksinään ja lähtee etsimään äitiään. Epäonnekseen hän löytää metsästä tapetun riistanvartijan ruumiin ja osuu myöhemmin salametsästäjien piilopirtille. Jesse otetaan vangiksi, mutta yön pimeydessä hänen onnistuu paeta. Jesse jatkaa Clairen etsimistä kannoillaan vaarallinen pari salametsästäjiä.
DVD-julkaisu: ainakin USA
---
Takaisin etusivulle
---
Koiraelokuvat.info is a non-commercial, non-profit fansite for information purposes only. No copyright infringement intended. All titles, characters, cover pictures and other images are © their respective owners.