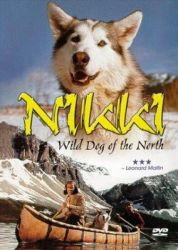 Nikki, Wild Dog of The North
(Disneyn seikkailu/perhe-elokuva vuodelta 1961)
Tämä elokuva on filmatisointi James Oliver Curwoodin erämaaromaanista Nomads of The North. Suuren Kultakuumeen aikoihin kanadalainen turkismetsästäjä Andre Dupas ja hänen parin kuukauden ikäinen malamuuttinsa Nikki kohtaavat orvoksi jääneen karhunpennun. Andre päättää ottaa karhunpennun luokseen, kunnes se olisi tarpeeksi vanha selviämään omillaan. Heidän meloessaan arvaamatonta jokea pitkin Andren kanootti kuitenkin kaatuu, jolloin Nikki ja karhunpentu joutuvat eroon isännästään.
Alkuvaikeuksista huolimatta Nikki ja karhu kehittyvät ystäviksi kasvaessaan yhdessä Kanadan metsissä, mutta talven tultua Nikki jää yksin karhunpennun asetuttua talviunille. Nikki alkaa etsiä itselleen uutta kotilaumaa vältellen samalla metsästäjiä ja muita erämaan villipetoja. Lopulta villiintynyt koira kohtaa uudelleen entisen ihmisisäntänsä.
VHS-julkaisu: Suomi, nimellä Voimakaksikko Nikki ja Andre
DVD-julkaisu: ainakin USA
---
Takaisin etusivulle
---
Koiraelokuvat.info is a non-commercial, non-profit fansite for information purposes only. No copyright infringement intended. All titles, characters, cover pictures and other images are © their respective owners.