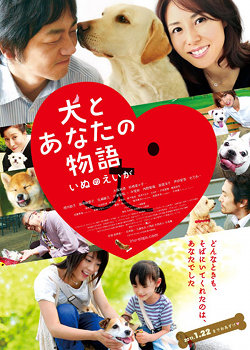 Happy Together - All About My Dog
(Inu to anata no monogatari - inu no eiga, draamaelokuva vuodelta 2011)
Happy Together - All About My Dog on viidestä koira-aiheisesta tarinasta (The Dog's Name, Akira!, Visits to Dog Lovers, Dog Nap, Mother's Anxiety ja Vanilla Fragments) koostuva episodielokuva.
Elokuva on eräänlainen seuraaja vuoden 2005 All About My Dogille.
DVD-julkaisu: Japani, Hong Kong
---
Takaisin etusivulle
---
Koiraelokuvat.info is a non-commercial, non-profit fansite for information purposes only. No copyright infringement intended. All titles, characters, cover pictures and other images are © their respective owners.