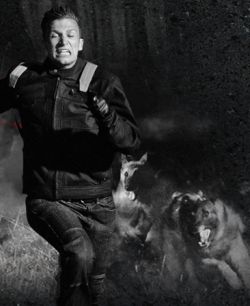 Release The Hounds
Tässä kauhuviihdettä tarjoavassa kilpailuohjelmassa osanottajat juoksevat pakoon vihaisia (?) koiria, jotka ohjelman sloganin mukaan eivät tiedä kaiken olevan vain leikkiä. Rahapalkinnon suuruus määrittää kilpailijan saaman etumatkan.
Loppuvuonna 2013 esitelty brittiläinen formaatti ei tiettävästi ole vielä tuottanut raatelutapauksia.
---
Takaisin etusivulle
---
Koiraelokuvat.info is a non-commercial, non-profit fansite for information purposes only. No copyright infringement intended. All titles, characters, cover pictures and other images are © their respective owners.