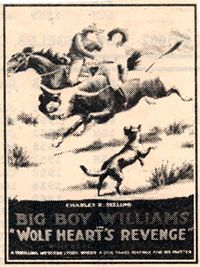 Wolfheart-elokuvat
Wolfheart-saksanpaimenkoira tähditti omaa elokuvasarjaansa vuonna 1925.
Big Stunt (1925)
Courage of Wolfheart (1925)
Rose of the Desert (1925)
Bad Man from Bodie (1925)
Wolfheart's Revenge (1925)
Fangs of Wolfheart (1925)
---
Takaisin etusivulle
---
Koiraelokuvat.info is a non-commercial, non-profit fansite for information purposes only. No copyright infringement intended. All titles, characters, cover pictures and other images are © their respective owners.