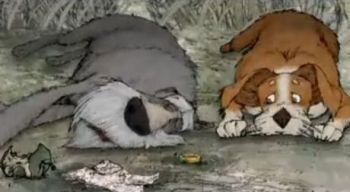 The Dog Door
(draamaelokuva vuodelta 2007)
The Dog Door on venäläinen animaatioelokuva, joka kertoo viiden hylätyn koiran elämästä kaupungin liepeillä. Koirat ovat muodostaneet oman laumansa ja pitävät kotinaan pientä rotkoa. Koirien haaveena on löytää mysteerinen "Koiranluukku", jonka sanotaan johtavan onneen. Olisiko maahan pudonnut, ihmiseltä haiseva kultasormus kaivattu Koiranluukku? Pian sormuksen löytymisen jälkeen yksi koirista, sekarotuinen Proud, tutustuu lähellä asuvaan ihmiseen, joka tarjoaa Proudille ainakin osa-aikaisen kodin. Tästä huolimatta Proudin on vaikea unohtaa omaa hylkiölaumaansa.
Elokuva perustuu Konstantin Sergiyenko romaaniin Farewell, Ravine: A Tale of Homeless Dogs.
Elokuvasta ei tiettävästi ole olemassa VHS- tai DVD-julkaisua.
---
Takaisin etusivulle
---
Koiraelokuvat.info is a non-commercial, non-profit fansite for information purposes only. No copyright infringement intended. All titles, characters, cover pictures and other images are © their respective owners.