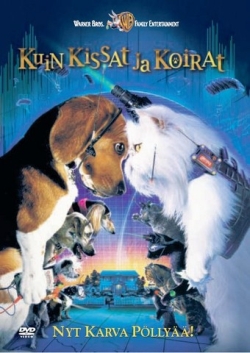 Kuin kissat ja koirat
(Cats and Dogs, toiminta/komediaelokuva vuodelta 2001)
Tässä elokuvassa perinteinen kissojen ja koirien välinen vastakkainasettelu saa aivan uudet mittasuhteet. Totuushan on seuraava: kauan sitten muinaisen Egyptin kissat orjuuttivat ihmisiä, kunnes egyptiläisten koirat asettuivat vastarintaan ja vapauttivat ihmiset kissojen ylivallasta. Siitä asti osapuolten voimasuhteiden välillä on vallinnut herkkä tasapainotila vakoiluorganisaatioineen. Tästä kaikesta ihmiset ovat kuitenkin autuaan tietämättömiä.
Tarina alkaa, kun erään perheen koira siepataan. Perheen isä on keksijä, joka kehittelee parhaillaan lääkettä koira-allergian parantamiseksi. Sekä kissat että koirat ovat tietoisia kyseisen lääkkeen seurauksista, joten perhettä pidetään tarkasti silmällä. Sattuman seurauksena nuori beagle nimeltä Lou valitaan paikkaamaan perheen siepatun koiran tehtävää koulutetun agentin sijasta. Lou ja saman yksikön kolme muuta koiraa joutuvat varjelemaan allergialääkkeen kaavaa päätymästä vääriin käpäliin, sillä ovela persialaiskissa Mr. Tingles kannattajineen on aikeissa muunnella lääkkeen toiminnan koira-allergiaa aiheuttavaksi ja käyttää sitä toteuttaakseen kissavallankumouksen. Samalla Lou'n täytyy selvittää itselleen, kumpi on tärkeämpää: hänen kiintymyksensä ihmisperheeseen vai tehtävä koirien agenttina.
VHS-julkaisu: Suomi
DVD-julkaisu: Suomi
---
Kuin kissat ja koirat - Katti Katalan kosto
(Cats & Dogs: The Revenge of Kitty Galore, toiminta/komediaelokuva vuodelta 2010)
Agenttiseikkailut jatkuvat! Tällä kertaa kissoja ja koirien on ensimmäistä kertaa historiassa liittouduttava, sillä Katti Katalan suunnitelma uhkaa orjuuttaa ihmisisännät.
DVD-julkaisu: Suomi
Blu-Ray-julkaisu: Suomi
---
Takaisin etusivulle
---
Koiraelokuvat.info is a non-commercial, non-profit fansite for information purposes only. No copyright infringement intended. All titles, characters, cover pictures and other images are © their respective owners.