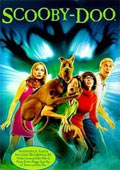 Scooby Doo
(Scooby Doo, seikkailukomedia vuodelta 2002)
Tämä näytelty elokuva perustuu samannimiseen suosittuun piirrossarjaan, jossa ruualle perso tanskandoggimainen koira ihmiskollegoineen ratkoo kummitusjuttujen arvoituksia. Elokuvassa tämä Mysteeripoppoon nimellä tunnettu etsivätoimisto on ajautunut kriisiin ihmisosakkaiden välirikon takia. He joutuvat kuitenkin unohtamaan erimielisyytensä saatuaan jokainen kutsun monimiljonääri Emile Mondavariuksen omistamalle huvipuistosaarelle. 'Aavesaarena' tunnettua lomailupaikkaa riivaavat yliluonnollisilta tuntuvat tapaukset. Mondavarius toivoo Mysteeripoppoon selvittävän ongelman ennen kuin puistolle kehittyy lomailijat karkottava maine.
Elokuvan Scooby on toteutettu tietokoneanimaationa.
VHS-julkaisu: Suomi
DVD-julkaisu: Suomi, nimellä Scooby Doo ja salaperäinen saari
---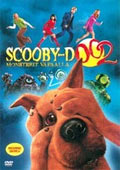 Scooby Doo 2: Monsterit vapaalla
(Scooby Doo 2: Monsters Unleashed, seikkailukomedia vuodelta 2004)
Toinen näytelty Scooby Doo-elokuva.
VHS-julkaisu: Suomi
DVD-julkaisu: Suomi
---
Scooby Doo-animaatioelokuvat
Suoraan videolle tai DVD:lle julkaistut Scooby Doo-piirretyt:
Scooby-Doo ja saaren zombiet (1998)
Scooby-Doo ja noidan haamu (1999)
Scooby-Doo And The Alien Invaders (2000)
Scooby-Doo ja kyberjahti (2001)
Scooby-Doo ja vampyyri (2003)
Scooby-Doo ja Meksikon hirviö (2003)
Scooby Doo ja Loch Nessin hirviö (2004)
Aloha, Scooby-Doo! (2005)
Scooby Doo: Missä muumio luuraa? (2005)
Scooby-Doo: Merirosvoja, ohoi! (2006)
Chill Out, Scooby-Doo! (2007)

Useimmat näistä on julkaistu Suomessa VHS:nä ja DVD:nä.




---
Takaisin etusivulle
---
Koiraelokuvat.info is a non-commercial, non-profit fansite for information purposes only. No copyright infringement intended. All titles, characters, cover pictures and other images are © their respective owners.