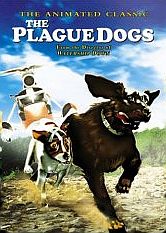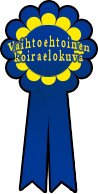 The Plague Dogs
(animaatioelokuva vuodelta 1982)
The Plague Dogs (suomeksi 'Ruttokoirat') on Richard Adamsin romaaniin perustuva elokuva kahdesta koe-eläinkoirasta, jotka pakenevat laboratoriosta ulkomaailmaan paremman elämän toivossa. Eläessään tutkimuslaitoksessa musta labradorsekoitus Rowf on käytössä hukkumiskestävyyttä mittaavassa testissä. Tämä seurauksena Rowf pelkää vettä ja on taipuvainen surumielisyyteen. Kettuterrieri Snitter taas on kokenut aivoleikkauksen, joka aiheuttaa sille aistiharhoja. Snitter syyttää itseään isäntänsä kuolemasta, mutta ei ole vielä menettänyt uskoaan kaikkiin ihmisiin.
Erään kerran eläintenhoitaja sulkee häkin oven huolimattomasti, jolloin Rowf ja Snitter pääsevät karkaamaan. Koirat pakenevat polttouunin kautta, mutta rikkovat mennessään lasiset näyteastiat, jotka sisältävät ihmiselle vaarallista keuhkoruttoa. Ilo vapaudesta jää lyhytaikaiseksi, sillä ulkomaailma vaikuttaa olevan yhtä täynnä kurjuutta ja kuolemaa kuin laboratoriokin. Pysyäkseen hengissä Rowf ja Snitter tappavat läheisen maaseudun kotieläimiä ja joutuvat samalla tekemisiin ihmisten ja ampuma-aseiden kanssa. Onnekseen koirat kohtaavat neuvokkaan ketun, joka kutsuu itseään The Todiksi. Ne solmivat molempia osapuolia hyödyttävän ruokasopimuksen. The Todin onnistuu pelastaa liittolaisensa monta kertaa, mutta sitten julkisuuteen tulee tieto, että karanneet koirat ovat mahdollisesti vakava biologinen uhka. Rowf ja Snitter saavat peräänsä vihaisten tilallisten lisäksi armeijan miehet.
The Plague Dogs on sekä tarinaltaan että piirrostyyliltään yksi synkimmistä (koira)elokuvista, joita allekirjoittanut on nähnyt.
DVD-julkaisu: ainakin UK ja USA
---
Takaisin etusivulle
---
Koiraelokuvat.info is a non-commercial, non-profit fansite for information purposes only. No copyright infringement intended. All titles, characters, cover pictures and other images are © their respective owners.