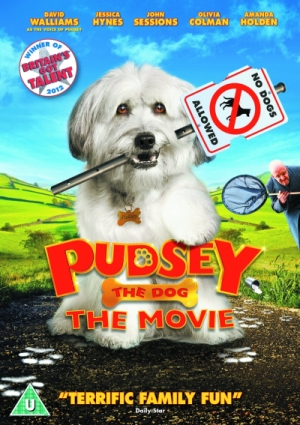 Pudsey The Dog
(perhe-elokuva vuodelta 2014)
Pudsey The Dog on humoristinen perhe-elokuva Pudsey-kulkukoirasta, joka huomaa löytäneensä itselleen ihmisperheen. Pudsey aavistaa, että perheen uuden kodin vuokraisäntä hautoo synkkiä suunnitelmia.
Elokuvan erikoisuutena on omaa nimirooliaan esittävä Pudsey, joka voitti Britannian Got Talent? -kykyjenetsintäkilpailun vuonna 2012. Pudseyssa on ainakin bordercollieta ja bichon friseä.
DVD-julkaisu: ainakin UK
---
Takaisin etusivulle
---
Koiraelokuvat.info is a non-commercial, non-profit fansite for information purposes only. No copyright infringement intended. All titles, characters, cover pictures and other images are © their respective owners.