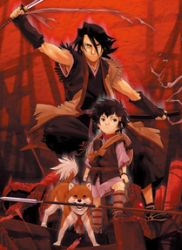 Sword of The Stranger
(Sutorenjia Mukõhadan, seikkailuelokuva vuodelta 2007)
Sword of The Stranger on feudaaliajan Japaniin sijoittuva anime-elokuva nuoresta Kotaro-pojasta, jota Kiinan kuninkaallisen armeijan miehen tuntemattomattomasta syystä jahtaavat. Kotarolla on seuranaan uskollinen koiransa, shiba/akita nimeltä Tobimaru. Kotaro etsii suojaa vainoajiltaan ja liittoutuu Nanashin, kohtaamansa mysteerisen samurain kanssa. Kun yksi takaa-ajajista onnistuu myrkyttämään Tobimarun, joutuvat Kotaro ja Nanashi etsimään koiralle parannuskeinoa vältellen samalla vihollistaan.
DVD-julkaisu: ainakin Japani ja USA
Blu-Ray-julkaisu: ainakin Japani
---
Takaisin etusivulle
---
Koiraelokuvat.info is a non-commercial, non-profit fansite for information purposes only. No copyright infringement intended. All titles, characters, cover pictures and other images are © their respective owners.