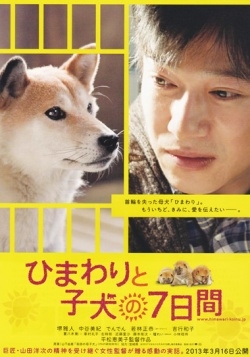 7 Days of Himawari & Her Puppies
(Himawari to koinu no nanokakan, draamaelokuva vuodelta 2013)
7 Days of Himawari & Her Puppies ("Himawarin ja hänen pentujensa seitsemän päivää") on japanilainen elokuva shibanartusta, joka elää pienten pentujensa kanssa löytöeläinsuojassa. Suojaan päätyneillä eläimillä on hyvin vähän armonaikaa, sillä seitsemän päivän kuluttua lunastamattomat löytöeläimet lopetetaan - myös koiraemo pentuineen.
DVD-julkaisu: Japani

---
Takaisin etusivulle
---
Koiraelokuvat.info is a non-commercial, non-profit fansite for information purposes only. No copyright infringement intended. All titles, characters, cover pictures and other images are © their respective owners.