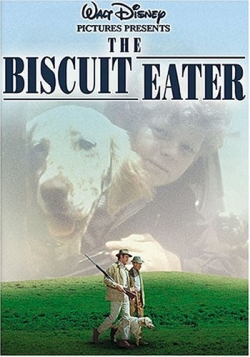 The Biscuit Eater
(Disneyn perhe-elokuva vuodelta 1972)
The Biscuit Eater on kertomus kahden pojan välisestä ystävyydestä, eräästä metsästyskoirasta ja heidän yhteisestä tavoitteestaan. Moreoveriksi ristitty koira vaikuttaa toivottomalta lintukoiralta. Se ei osoita piilottelevia lintuja, vaan keskittyy mielummin varastelemaan kanaloista munia. Moreover hylätään koulutusohjelmasta ja lahjoitetaan pois, mutta 12-vuotiaat Lonnie ja Text uskovat koiran piileviin kykyihin. He lunastavat Moreoverin omistukseensa ja alkavat opettaa sille lintukoiran työskentelyä. Kaikkien hämmästykseksi Moreover kehittyy niin taitavaksi, että pojat päättävät osallistua sen kanssa metsästyskilpailuun.
TV-esitys Suomessa: nimellä Pullapiski
DVD-julkaisu: ainakin USA
---
Takaisin etusivulle
---
Koiraelokuvat.info is a non-commercial, non-profit fansite for information purposes only. No copyright infringement intended. All titles, characters, cover pictures and other images are © their respective owners.