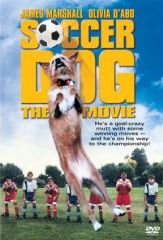 Soccer Dog
(lastenelokuva vuodelta 1999)
Soccer Dog: The Movie on elokuva Clay-nimisestä pojasta ja hänen jalkapalloilevasta Lincoln-koirastaan. Uuteen perheeseen ja kaupunkiin vasta adoptoitu Clay liittyy isänsä mieliksi paikalliseen jalkapallojoukkueeseen, vaikka ei oikeastaan osaakaan pelata. Huonosti menestyvä joukkue saa Clayn taidottomuudesta vain naurunaiheen, kunnes Clayn löytämä terrieri Lincoln osoittaa yllättäen maalintekotaitonsa kesken erään ottelun. Edustusjoukkueeseen mukaan otettu Lincoln saa aikaan voittoisan putken.
DVD-julkaisu: ainakin USA
---
Takaisin etusivulle
---
Koiraelokuvat.info is a non-commercial, non-profit fansite for information purposes only. No copyright infringement intended. All titles, characters, cover pictures and other images are © their respective owners.