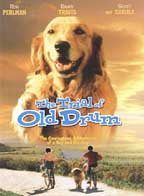 The Trial of Old Drum
(perhe-elokuva vuodelta 2002)
The Trial of Old Drum on tositapahtumiin perustuva kertomus kultaisestanoutajasta, jota vailla raskauttavia todisteita syytetään lampaantappajaksi. 1950-luvun Missourin osavaltioon sijoittuva elokuvan päähenkilöinä ovat 12-vuotias Charlie ja hänen koiransa Drum. Drum on vanha ja viisas kultainennoutaja, jolle Charlien äiti on ennen kuolemaansa jättänyt tehtävän huolehtia Charliesta. Se osoittaa olevansa luottamuksen arvoinen pelastaessaan Charlien hukkumasta ja villikoirien hampaista oman henkensäkin uhalla.
Paikalliset lammastilalliset ovat kuitenkin alkaneet menettää lampaitaan näkymättömälle tappajalle. Kun Drum tavataan yhden tapetun lampaan luota, se saa niskaansa lammastilojen isäntien kantaman kaunan. Erityisesti Charlien eno haluaa päästä koirasta eroon. Charlie tietää, että lampaat ovat kuolleet villikoirien eivätkä Drumin takia, mutta hänellä ei ole esittää pitävää alibia koiralleen. Lopulta Drum omistajineen haastetaan kylän oikeuteen, jossa tarkoituksena on todistajalausuntojen kautta vakuuttua Drumin syyllisyydestä tai syyttömyydestä.
Todellinen 1800-loppupuolella elänyt Old Drum oli ajokoira, joka ammuttiin kuoliaaksi tappoepäilysten perusteella. Tapauksen johdosta nousseessa oikeudenkäynnissä Drumin omistajan asianajaja piti jurylle vetoavan puheen 'ihmisen parhaasta ystävästä' ja voitti jutun. Old Drumin muistoksi Warrensburgiin pystytettiin vuonna 1958 koirapatsas, jonka jalustassa näkyy myös kuuluisa puolustuspuhe 'A Tribute To The Dog'.
TV-esitys Suomessa: nimellä Kultaisennoutajan tapaus
DVD-julkaisu: ainakin USA
---
Takaisin etusivulle
---
Koiraelokuvat.info is a non-commercial, non-profit fansite for information purposes only. No copyright infringement intended. All titles, characters, cover pictures and other images are © their respective owners.