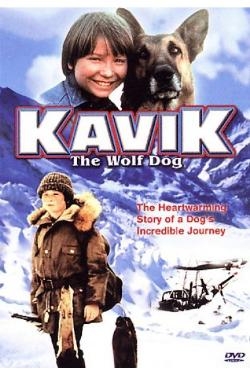 Kavik The Wolf Dog
(seikkailuelokuva vuodelta 1980)
Walt Moreyn romaaniin perustuva Kavik The Wolf Dog on kertomus Andy-nimisen pojan ja erään saksanpaimenkoiran välisestä ystävyydestä. Alaskan merkittävässä koiravaljakkokilpailussa kunnostautunut johtajakoira Kavik kiinnittää rikkaan George Hunterin huomion. Hän ostaa Kavikin suurella rahalla edustuskoirakseen mutta lentokone, jonka tarkoituksena on kuljettaa Kavik Seattleen, putoaa Alaskan vuoristoon.
12-vuotias Andy löytää murskautuneen lentokoneen ja sen ainoan selviytyjän - vaikeasti loukkaantuneen Kavikin. Kukaan ei usko koiran jäävän henkiin, mutta Andyn sitkeyden ansiosta kylän lääkäri lupaa lopulta yrittää parhaansa. Kavik toipuu vammoistaan, mutta kärsii onnettomuuden aiheuttamasta traumasta ja suhtautuu kaikkeen hyvin pelokkaasti.
Kun George Hunter kuulee Kavikin olevan hengissä, hän palaa Alaskaan hakemaan koiransa. Kavik matkustaa Hunterin mukana Seattleen, mutta edustuskoiraksi siitä ei enää ole. Kesken suuren esittelytilaisuuden Kavik säikähtää meteliä ja pakenee ikkunan läpi. Se aloittaa pitkän matkan kohti pohjoista takaisin Andyn luokse. Yksinäisellä vaelluksellaan Alaskan karuissa maisemissa Kavik alkaa vähitellen saada takaisin menetettyä rohkeuttaan.
DVD-julkaisu: ainakin USA
---
Takaisin etusivulle
---
Koiraelokuvat.info is a non-commercial, non-profit fansite for information purposes only. No copyright infringement intended. All titles, characters, cover pictures and other images are © their respective owners.