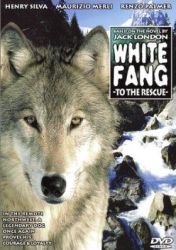 Zanna Bianca alla riscossa
(seikkailuelokuva vuodelta 1974)
Italialaiset Zanna Bianca-elokuvat ("Valkohammas") ovat 70-luvun seikkailuelokuvia, jotka lainaavat Jack Londonin romaanista vain kullankaivamisen ja koiran nimen. Zanna Bianca alla riscossa ("Valkohammas pelastajana") kertoo miehestä, joka haluaa kostaa toverinsa kuoleman rahanahneille roistoille. Huijatakseen roistoja hän omaksuu kuolleen toverinsa identiteetin, jolloin hänestä samalla tulee sekä suuren susikoiran omistaja että Kim-nimisen nuoren pojan isä. Kim joutuu kuitenkin siepatuksi lunnasrahojen toivossa, jolloin Valkohampaan tehtäväksi lankeaa pojan pelastaminen. Rohkea Valkohammas joutuu taistelemaan ihmispahisten lisäksi susia ja karhua vastaan.
Elokuvan Valkohammas on oikeasti saksanpaimenkoira.
DVD-julkaisu: ainakin UK ja USA, nimellä White Fang To The Rescue
Muita Zanna Bianca-elokuvia:
Zanna Bianca (1973)
Il ritorno di Zanna Bianca (1974)
Zanna Bianca e il cacciatore solitario (1975)


---
Takaisin etusivulle
---
Koiraelokuvat.info is a non-commercial, non-profit fansite for information purposes only. No copyright infringement intended. All titles, characters, cover pictures and other images are © their respective owners.