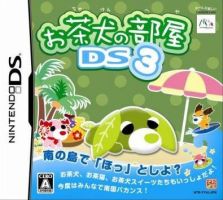 Ocha-Ken-pelit
(Kehittäjä: MTO, 2004-)
Ocha-Ken ("Teekoira") on japanilainen teenlehtikorvainen koirahahmo. Alkuperäiset Ocha-Kenit olivat suosittuja leluja, jotka saivat myöhemmin oman animesarjansa ja videopelinsä.
Ocha-Ken Kururin: Honwaka Puzzle de Hottosho (puzzlepeli GBA:lle, 2004)
Ocha-Ken no Yumebouken (puzzle/seikkailupeli GBA:lle, 2005)
Ocha-Ken no Heya 1-3 (Nintendogs-tyyppinen teekoirasimulaattori DS:lle, 2006)
Ocha-Ken to Itsumo Nakayoshi (3DS-peli, 2011)
---
Takaisin etusivulle
---
Koiraelokuvat.info is a non-commercial, non-profit fansite for information purposes only. No copyright infringement intended. All titles, characters, cover pictures and other images are © their respective owners.