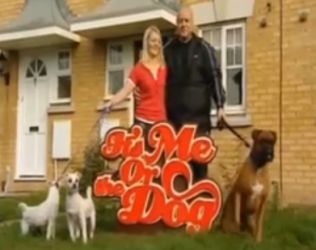 Koirani vai minä?
(It's Me Or The Dog, 2005-2007)
Koirani vai minä? on brittiläinen televisiosarja, jossa koirien koulutusasiantuntija Victoria Stilwell menee paikan päälle ongelmallisesti käyttäytyvien koirien koteihin ratkomaan häiriökäyttäytymisen syitä. Kuten sarjan inspiroineessa Lapsityranneissakin, ongelmien korjaaminen alkaa aina kasvattajien asennemuutoksesta.
Sarjan uudempien esitysten suominimenä on Isännän ja koiran käytöskoulu / Isännän ja koiran käytöskoulu Amerikassa.
TV-esitys Suomessa: TV2, 2006-2008; Liv, 2011



---
Takaisin etusivulle
---
Koiraelokuvat.info is a non-commercial, non-profit fansite for information purposes only. No copyright infringement intended. All titles, characters, cover pictures and other images are © their respective owners.