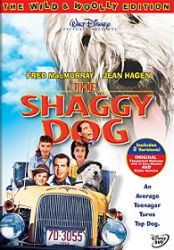 The Shaggy Dog
(Disneyn perhekomedia vuodelta 1959)
The Shaggy Dog on elokuva teini-ikäisestä Wilby Daniels-pojasta, joka saa ylleen merkillisen koirautumiskirouksen. Läheisen museon muinaisia kulttuureita esittelevässä näyttelyssä Wilbyn vaatteisiin tarttuu vanha sormus. Sormukseen on kaiverrettu latinankielinen lause, jota Wilby ei aivan ymmärrä. Hän laittaa sormuksen sormeensa - ja huomaa pian vallanneensa tahtomattaan uusien naapureidensa vanhaenglanninlammaskoiran ruumiin.
Wilbyn muuttuminen puhuvaksi koiraksi ja takaisin tapahtuu hänen hallitsemattaan ja yleensä pahimmalla mahdollisella hetkellä. Vaikeuksia aiheuttaa myös perheen koiria vihaava isä. Niinpä Wilbyn pikkuveli Moochie on ainoa, jolle Wilby voi uskoutua ongelmastaan. Koiramuodossaan Wilby kuulee kuitenkin paljon sellaista, mitä ei ole tarkoitettu ulkopuolisten korville. Hän saa selville, että "uudet naapurit" ovat todellisuudessa vakoojajoukkio kieroine suunnitelmineen.
Elokuvassa koiran roduksi mainitaan kuvitteellinen Bratislavan paimenkoira.
TV- ja elokuvaesitys Suomessa: nimellä Koiruutta kerrakseen
DVD-julkaisu: ainakin UK ja USA
---
Takaisin etusivulle
---
Koiraelokuvat.info is a non-commercial, non-profit fansite for information purposes only. No copyright infringement intended. All titles, characters, cover pictures and other images are © their respective owners.