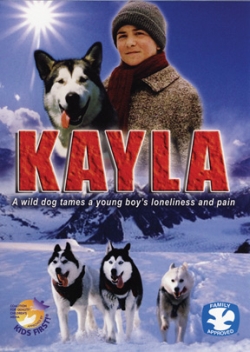 Kayla - A Cry In The Wilderness
(seikkailuelokuva vuodelta 1980)
Kayla - A Cry In The Wilderness on Elizabeth Van Steenwykin romaaniin perustuva elokuva kadonneen tutkimusmatkailijan pojasta, joka kohtaa isänsä valjakon johtajakoiraa muistuttavan koiran. 12-vuotias Sam on juuri muuttanut äitinsä ja isäpuolensa kanssa uuteen pikkukaupunkiin. Sam elättelee vieläkin toiveita kahdeksan vuotta sitten kadonneen isänsä löytymisestä ja vastustaa elämässään vast'ikään tapahtuneita muutoksia. Eräänä aamuna Sam näkee ikkunastaan oudon, susimaisen koiran kulkevan pihan poikki. Myöhemmin hän törmää samaan koiraan metsässä. Koira vaikuttaa villiintyneeltä, mutta näyttää Samista aivan isän koiravaljakon johtajamalamuutilta, joka totteli nimeä Kayla.
Sam nimeää koiran Kaylaksi ja ryhtyy kesyttämään sitä. Vähitellen Kayla tottuu Samiin. Sam alkaa suunnitella osallistuvansa tulevaan vetokoirakilpailuun Kaylan ja perheen kahden muun koiran valjakolla. Kyläläiset suhtautuvat kuitenkin kaunaisesti kaikkiin villikoiriin, sillä ne ovat tappaneet heidän kotieläimiään. Näyttää siltä, ettei edes asema Samin omistamana koirana takaa Kaylalle suojaa erään vihamiehen pakkomielteeltä.
DVD-julkaisu: ainakin USA
---
Takaisin etusivulle
---
Koiraelokuvat.info is a non-commercial, non-profit fansite for information purposes only. No copyright infringement intended. All titles, characters, cover pictures and other images are © their respective owners.