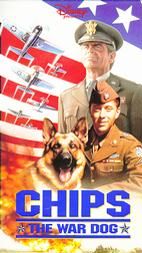 Chips, The War Dog
(Disneyn perhe-elokuva vuodelta 1990)
Chips, The War Dog on osittain tositapahtumiin perustuva elokuva Chips-nimisestä saksanpaimenkoirasta, joka kurittomuudestaan huolimatta - tai ehkä juuri sen takia - ilmoitetaan mukaan armeijan sotakoiraohjelmaan. Armeijassa Chipsin ohjaajaksi valikoituu 18-vuotias sotamies Danny, joka epäonnekseen pelkää koiria. Vastoin kaikkia odotuksia Dannyn ja Chipsin muodostama kaksikko yltää lopulta merkittäviin saavutuksiin rintamalla.
Todellinen Chips, Toisen Maailmansodan kuuluisin sotakoira, oli sekoitus saksanpaimenkoiraa, collieta ja huskya.
VHS-julkaisu: USA
---
Takaisin etusivulle
---
Koiraelokuvat.info is a non-commercial, non-profit fansite for information purposes only. No copyright infringement intended. All titles, characters, cover pictures and other images are © their respective owners.