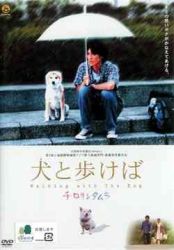 Walking With The Dog
(Inu to arukeba, draamaelokuva vuodelta 2004)
Walking With The Dog on kertomus terapiakoiratoiminnasta Japanissa sekä tietyn terapiakoiran rakoilevia ihmissuhteitakin korjaavasta vaikutuksesta. Kaduille hylätty sekarotuinen shiba löytää kohtalotoverin Yasuyuki-nimisestä nuoresta miehestä, joka on juuri eroamassa pitkäaikaisesta tyttöystävästään Miwasta. Miwan päätös muuttaa takaisin lapsuuskotiinsa vakavasti sairaan äitinsä luokse jättää Yasuyukin vaille asuntoa, työpaikkaa tai rahaa.
Sen sijaan Yasuyuki huomaa mahdottomaksi päästä enää eroon koirasta, jolle hän ystävällisyydessään on kerran antanut ruokaa. Hän alkaa kutsua koiraa Tamuraksi erään lapsuudenystävänsä mukaan. Kaksikon elämään tulee yht'äkkiä enemmän tarkoitusta, kun Yasuyuki sattumalta näkee televisiosta jutun terapiakoirista, jotka pelkällä läsnäolollaan ovat avuksi sairaille ihmisille. Rauhallinen ja lempeäluonteinen Tamura hyväksytään mukaan terapiakoirakoulutukseen. Läpäistyään kurssin Yasuyuki ja Tamura kiertävät vanhainkoteja ja sairaaloita uudessa työssään, kunnes Yasuyuki alkaa ajatella, että koira voisi lohduttaa myös Miwan kuolemansairasta äitiä.
Elokuvassa esiintyy useita oikeita terapiakoiria, jotka eivät tarvinneet erillistä koulutusta näytelläkseen osansa.
DVD-julkaisu: Japani
Play-Asia.com on hyväksi havaittu japanilaisten koiraelokuvien nettikauppa.
---
Takaisin etusivulle
---
Koiraelokuvat.info is a non-commercial, non-profit fansite for information purposes only. No copyright infringement intended. All titles, characters, cover pictures and other images are © their respective owners.