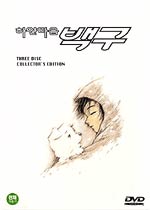 White Dog With White Heart
(myös nimellä Pure Heart Baekgu, 2003)
White Dog With White Heart on eteläkorealainen 13 jakson animaatiosarja, joka seuraa valkoisen Baekgu-koiran matkaa takaisin omistajalapsiensa Sorin ja Dongin luokse.
DVD-julkaisu: ainakin Korea
---
Takaisin etusivulle
---
Koiraelokuvat.info is a non-commercial, non-profit fansite for information purposes only. No copyright infringement intended. All titles, characters, cover pictures and other images are © their respective owners.