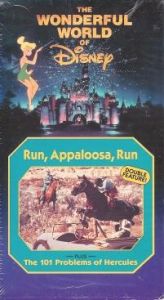 The 101 Problems of Hercules
(perhe-elokuva vuodelta 1966)
The 101 Problems of Hercules on osa The Wonderful World of Disney - televisioelokuvien sarjaa. Tositapahtumiin perustuva elokuva kertoo kolmesta lammaskoirasta, Herculeksesta, Ladysta ja Boomerista, jotka ilman isäntäänsä paimentavat lammaslauman kotiin suojellen sitä varkailta ja villipedoilta.
VHS-julkaisu: USA, tuplakasetilla yhdessä elokuvan Run, Appaloosa, Run kanssa
---
Takaisin etusivulle
---
Koiraelokuvat.info is a non-commercial, non-profit fansite for information purposes only. No copyright infringement intended. All titles, characters, cover pictures and other images are © their respective owners.