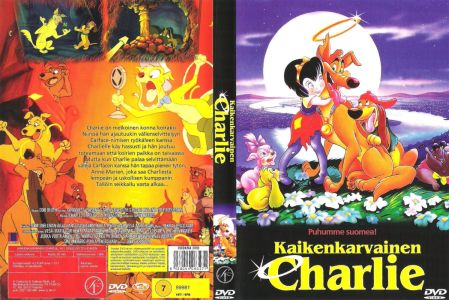 Kaikenkarvainen Charlie
(All Dogs Go To Heaven, animaatioelokuva vuodelta 1989)
Kaikenkarvainen Charlie kertoo tarinan kovasta bisneskoirasta, joka huijaa itselleen uuden mahdollisuuden maanpäällisessä elämässä. Saksanpaimenkoiraa muistuttava Charlie omistaa tuottoisan vedonlyöntikasinon yhdessä Carface-nimisen buldoggin kanssa. Yritysjohtajuutta havitteleva Carface kuitenkin haluaa liikekumppanistaan eroon, joten hän järjestää tuhoisan onnettomuuden Charlien pään menoksi.
Koska englanninkielisen sananlaskun mukaan 'kaikki koirat menevät taivaaseen', löytää Charliekin itsensä tuonpuoleisen porteilta. Kostonhalu ja maallisten ilojen suosiminen houkuttavat Charlieta enemmän kuin taivaspaikka, joten hän varastaa elämäänsä mitanneen kellon ja vetää siihen hiukan lisää aikaa. Palattuaan takaisin Charlie alkaa juonia sopivaa tapaa kostaa Carfacelle. Ystävänsä Itchyn kanssa he murtautuvat Carfacen lukaaliin ja löytävät sieltä Anne-Marie-nimisen pikkutytön. Anne-Mariella on poikkeuksellinen kyky puhua kaikkien eläinlajien edustajien kanssa. Charlie 'pelastaa' tytön mukaansa mutta tajuaa kyllä, miten korvaamatonta hyötyä Anne-Marien lahjoista on kelle tahansa vedonlyöjälle. Näin Charlie on jälleen mukana bisneskuvioissa, mutta hänen taivaallisella tempauksellaan on toki hintansa.
VHS-julkaisu: Suomi
DVD-julkaisu: Suomi
Kävijäarvosteluja
Ginga98: "Kaikenkarvainen Charlie on aivan ihana elokuva! Elokuvan juoni on mielestäni hyvä ja hahmot ihania..Elokuva on samalla sekä hauska että koskettava.Lopussa en voinut olla itkemättä..Suosittelen elokuvaa kaikille koira-animaatioista pitäville ! :)"
---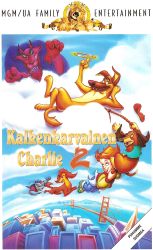 Kaikenkarvainen Charlie 2
(All Dogs Go To Heaven 2, animaatioelokuva vuodelta 1996)
VHS-julkaisu: Suomi

---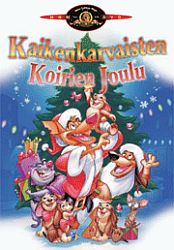 Kaikenkarvaisten koirien joulu
(An All Dogs Christmas Carol, animaatioelokuva vuodelta 1998)
DVD-julkaisu: Suomi
---
Takaisin etusivulle
---
Koiraelokuvat.info is a non-commercial, non-profit fansite for information purposes only. No copyright infringement intended. All titles, characters, cover pictures and other images are © their respective owners.