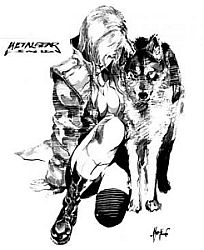 Metal Gear Solid
(Kehittäjä: Konami, 1998)
Metal Gear Solid on Playstationin hiiviskelyyn painottuva toimintapeli, jossa tavoitteena on edetä mahdollisimman huomaamattomasti terroristien valtaamassa, ydinaseiden loppusijoitukseen tarkoitetussa laitoksessa.
Rakennusten lähellä sijaitsevia luolia asuttaa villiintyneiden koirasusien lauma. Ne ovat rekikoirien ja alaskansusien risteytyksiä, jotka hylättiin sen jälkeen, kun hybridien käyttö koiravaljakkokilpailuissa kiellettiin. Yksi terroristien FOXHOUND-erikoisryhmän jäsenistä, koodinimeltään Sniper Wolf, tuntee hengenheimolaisuutta susien kanssa. Ilman hänen väliintuloaan sotilaat olisivat tappaneet lähialueen koirasudet laitoksen valtauksen jälkeen.
Sudet käyttäytyvät hyökkäävästi tunkeilijoita kohtaan, mutta rauhoittuvat haistaessaan jotain Sniper Wolfille kuuluvaa. Toinen vaihtoehto on uskotella niille, että olet itsekin yksi lauman jäsenistä...
Pelistä on tehty myös uusintaversio Gamecubelle alaotsikolla 'The Twin Snakes'.

Metal Gear Solid 4 - Guns of The Patriots
(Kehittäjä: Konami, 2008)
MGS-pelisarjan ajallisesti uusimmassa osassa palataan ensimmäisen pelin Shadow Moses -saarelle. Tukikohta on hylätty jo vuosia sitten, mutta pieni koirasusien yhdyskunta vaeltelee edelleen lumikentillä. Vaikuttaa siltä, että sudet muistavat sinut, sillä läsnäolosi saa ne erittämään pieniä sydämiä. Älä kuitenkaan testaa nukutusnuolien vaikutusta tähän eläinlajiin. Myös yksi pelin välibosseista, Crying Wolf, pukeutuu sangen susimaisesti liikkuvaan haarniskaan.
---
Takaisin etusivulle
---
Koiraelokuvat.info is a non-commercial, non-profit fansite for information purposes only. No copyright infringement intended. All titles, characters, cover pictures and other images are © their respective owners.