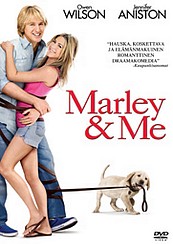 Marley & Me
(Marley & Me, draamaelokuva vuodelta 2008)
Tämä elokuva on vuosikymmenen kestävä kuvaus amerikkalaisen toimittajaperheen ja heidän koiransa elämästä. Vastanaineet John ja Jenny Grogan ovat onnellinen nuori pariskunta. John kuitenkin toivoo, etteivät Jennyn suunnitelmat perheen perustamisesta tulisi ajankohtaiseksi aivan vielä. Hän antaa vaimolleen syntymäpäivälahjaksi koiranpennun, joka saa nimensä laulaja Bob Marleyn mukaan. Labradorinnoutaja Marley osoittautuu koiraelokuvien energisimmäksi tapaukseksi. Se tuhoaa innoissaan talon irtaimistoa, syö kaikkea mahdollista ja mahdotonta, nylkyttää toisia koiria, karkailee ja saa potkut koirakoulusta. Elämäniloinen Marley takaa sen, ettei Johnilla ja Jennyllä ole enää tylsää hetkeä eikä Johnilla puutetta kolumniensa aiheista.
Vähitellen perhe kasvaa ja käy läpi omat kriisinsä. Vilkas koira on välillä vaarassa saada lähtöpassit, mutta uskollisuus puolin ja toisin pitää Marleyn mukana menossa loppuun asti.
DVD-julkaisu: Suomi
Blu-Ray-julkaisu: Suomi
---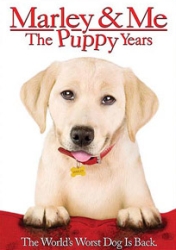 Marley & Me - The Puppy Years
(komediaelokuva vuodelta 2011)
Jatko-osassa palataan takaisin Marleyn pentuvuosien seikkailuihin. Nyt Marley osaa myös puhua.
DVD-julkaisu: Suomi
Blu-Ray-julkaisu: ainakin USA
---
Takaisin etusivulle
---
Koiraelokuvat.info is a non-commercial, non-profit fansite for information purposes only. No copyright infringement intended. All titles, characters, cover pictures and other images are © their respective owners.