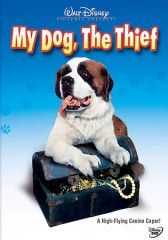 My Dog, The Thief
(Disneyn komediaelokuva vuodelta 1970)
My Dog, The Thief on elokuva Barabbas-nimisestä bernhardinkoirasta, jota vaivaa parantumaton kleptomania. Kahdeksan kertaa eläinsuojaan eri omistajilta palautunut Barabbas pakenee eräänä päivänä vangitsijoiltaan ja piiloutuu helikopteriin. Jack Crandall-niminen radiotoimittaja on juuri lähdössä helikopterilla yläilmoihin raportoimaan valtateiden liikenneruuhkia. Valitettavasti Jackin reportaasit eivät ole järin suosittuja kuuntelijoiden keskuudessa, joten hänen ohjelmansa tulevaisuus on uhattuna. Kesken kaiken lähetyksen sotkeva bernhardilainen saa kuitenkin kuulijaluvut huimaan nousuun. Jack saa pitää työnsä - mutta tästä lähtien hänellä olisi aina Barabbas kolleganaan. Barabbas kiintyy hetkessä uuteen omistajaansa, mutta sen varastelutaipumus aiheuttaa paitsi koomisia tilanteita, myös harmaita hiuksia Jackille.
VHS-julkaisu: Suomi, nimellä Varasteleva koirani
DVD-julkaisu: USA
---
Takaisin etusivulle
---
Koiraelokuvat.info is a non-commercial, non-profit fansite for information purposes only. No copyright infringement intended. All titles, characters, cover pictures and other images are © their respective owners.