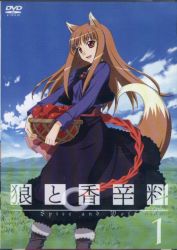 Spice And Wolf
(Õkami to kõshinryõ)
Spice And Wolf on Isuna Hasekuran kirjoittamaan ja Ju Ayakuran kuvittamaan light noveliin perustuva animesarja. Fantasiakeskiajalle sijoittuvassa tarinassa seurataan Lawrence Kraft-nimisen kauppiaan ja hänen susijumalatarseuralaisensa yhteistä matkaa. Lawrence löytää eräänä yönä vaunuistaan merkillisen tytön, joka vaatteiden sijasta näyttää pukeutuneen vain suden häntään ja korviin. Käy ilmi, että tyttö on oikeasti sadonkorjuun susijumalatar nimeltä Holo ihmismuodossaan.
Vuosisatoja Holo on vanhan lupauksensa mukaisesti huolehtinut Pasroen pikkukylän viljasatojen onnistumisesta, mutta vähitellen ihmiset ovat alkaneet unohtaa hänen merkityksensä. Holo haluaa lähteä Lawrence mukaan nähdäkseen, miten ympäröivä maailma on muuttunut kylässä vietettyjen vuosien aikana. Pienen vilja- tai veriuhrauksen avulla Holo pystyy muuttamaan muotonsa valtavaksi sudeksi.
Sarjan ensimmäisen kauden jaksoista esitettiin kaksitoista Japanin televisiossa keväällä 2008. Jakso numero seitsemän julkaistiin vain DVD:llä ja Blue-Raylla. Toinen tuotantokausi saa televisioesityksensä kesällä 2009.
DVD-julkaisu: Japani (kuusi DVD:tä)
Blu-Ray-julkaisu: Japani (boksi)
---
Takaisin etusivulle
---
Koiraelokuvat.info is a non-commercial, non-profit fansite for information purposes only. No copyright infringement intended. All titles, characters, cover pictures and other images are © their respective owners.