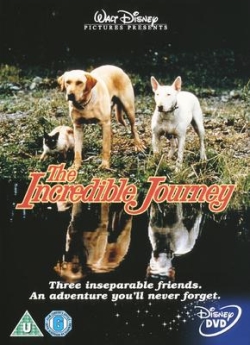 The Incredible Journey
(Disneyn seikkailuelokuva vuodelta 1963)
The Incredible Journey on Sheila Burnfordin romaaniin perustuva kertomus kissasta ja kahdesta koirasta, jotka lähtevät väliaikaisesta hoitopaikastaan kahdensadan mailin kotimatkalle. Labradorinnoutaja Luath, vanha bullterrieri Bodger ja siamilaiskissa Tao selviävät yhdessä monista koettelemuksista kulkiessaan aina vain länteen päin kohti kotia.
Monelle tutumpi lienee vuoden 1993 uusintaversio Kotia kohti. Tässä alkuperäisessä elokuvassa eläimet eivät puhu vaan tapahtumia selittää kertoja.
DVD-julkaisu: ainakin UK ja USA
---
Takaisin etusivulle
---
Koiraelokuvat.info is a non-commercial, non-profit fansite for information purposes only. No copyright infringement intended. All titles, characters, cover pictures and other images are © their respective owners.