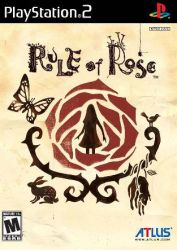 Rule of Rose
(Kehittäjä: Atlus, 2006)
Rule of Rose on PS2:n 1930-luvun Englantiin sijoittuva seikkailupeli. Pelissä ohjataan Jennifer-nimistä tyttöä, joka huomaa yllättäen joutuneensa keskelle orpokotilasten muodostamaa yhteisöä. Lapsilla on omat julmat sääntönsä aina keskinäisestä nokkimisjärjestyksestä rangaistuskäytäntöihin, eivätkä he suhtaudu uuteen tyttöön kovin suopeasti.
Varhaisessa vaiheessa peliä Jennifer kohtaa ruskean labradorinnoutajan, joka on sidottu jaloistaan roikkumaan ylösalaisin. Jennifer vapauttaa koiran pinteestä ja alkaa aikaisemmin löytyneen kaulapannan nimilaatan takia kutsua sitä Browniksi. Brown seurailee vapaasti uutta ystäväänsä, tottelee komentoja "Tänne!" ja "Paikka!" ja avustaa jäljittämällä kadonneita asioita hajuvihjeen perusteella. Vihamiesten uhatessa Brownin haukunta myös antaa Jenniferille ylimääräisen hetken aikaa paeta. Vaikuttaa siltä, että tässä hämmentävän kieroutuneessa maailmassa koira on ainoa olento, johon Jennifer voi todella luottaa.
Peliä ei koskaan julkaistu Euroopassa, sillä sen katsottiin sisältävän viittauksia lapsen seksuaaliseen hyväksikäyttöön.
---
Takaisin etusivulle
---
Koiraelokuvat.info is a non-commercial, non-profit fansite for information purposes only. No copyright infringement intended. All titles, characters, cover pictures and other images are © their respective owners.