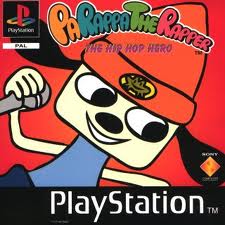 Parappa The Rapper
(Kehittäjä: NanaOn-Sha, 1996)
Parappa The Rapper on Playstationin musiikkipelisarja, jonka päähahmona räppää Parappa-niminen anthrokoira. Parappa on ollut pääosassa kahdessa omassa pelissään ja esiintyy myös sarjan spin-off -pelissä nimeltä UmJammer Lammy. Vaikka sarja onkin kolmiulotteinen, niin sarjan graafisessa tyylissä Parappa ja muut hahmot näyttävät ohuilta paperihahmoilta. Sarjan tarinassa Parappa on ihastunut kukkaa muistuttavaan tyttöön Sunny Funnyyn. Tehdäkseen vaikutukseen Sunnyyn Parappa opettelee monia asioita aina kung fu -taidoista autolla ajamiseen. Kaikki tämä opettelu tapahtuu tietysti räppäämällä musiikin tahtiin.
Playstationin Parappa The Rapperia pidetään ensimmäisenä modernina konsolirytmipelinä. Pelistä on olemassa myös PSP-versio. Jatko-osa Parappa The Rapper 2 julkaistiin Playstation 2:lle vuonna 2001.
---
Takaisin etusivulle
---
Koiraelokuvat.info is a non-commercial, non-profit fansite for information purposes only. No copyright infringement intended. All titles, characters, cover pictures and other images are © their respective owners.