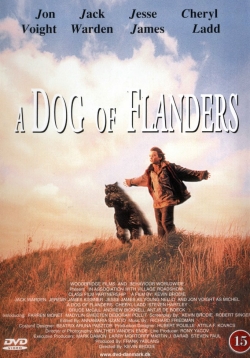 A Dog of Flanders
(draama/perhe-elokuva vuodelta 1999)
A Dog of Flanders on Marie Louise de la Raméen romaaniin perustuva elokuva orvosta taiteilijapojasta ja hänen koirastaan 1800-luvun Flandersin alueen pikkukaupungissa. Isoisänsä kanssa asuva Nello löytää metsästä henkihieveriin hakatun bouvier-koiran. Patrascheksi nimetty koira toipuu Nellon hoidossa ja ystävystyy uuden isäntänsä kanssa. Edesmenneen äitinsä tavoin Nello on lahjakas piirtäjä. Eletään kuitenkin aikaa, jolloin syntyminen rikkaaksi tai köyhäksi merkitsee paljon enemmän. Julman vuokranantajan ahdistelut ja läheisimmän lapsuudenystävän tapaamiskielto masentavat Nelloa, mutta uskollinen Patrasche ja tarinat kaupungin kuuluisimmasta henkilöstä, taidemaalari Rubensista, antavat hänelle syyn elää eteenpäin vaikeuksista huolimatta.
Sama tarina on filmattu moneen kertaan. Tunnetuimmassa 60-luvun versiossa Patraschea ei esittänyt oikea 'Flandersin koira', vaan Old Yelleristä tuttu labradorsekoitus Spike.
DVD-julkaisu: ainakin UK ja USA
---
Takaisin etusivulle
---
Koiraelokuvat.info is a non-commercial, non-profit fansite for information purposes only. No copyright infringement intended. All titles, characters, cover pictures and other images are © their respective owners.