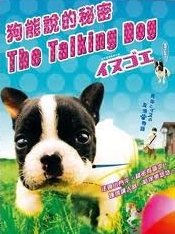 The Talking Dog
(draamakomedia vuodelta 2009)
The Talking Dog on japanilainen elokuva aistiyliherkästä miehestä, joka joutuu ottamaan hoitoonsa ranskanbulldoggin. Tuskallisen tarkan hajuaistinsa kanssa elävä Chihe työskentelee firmassa, joka kehittää erilaisia hajusteita. Eräänä aamuna herätessään hän löytää kodistaan ranskanbulldoggiuroksen ja pyynnön huolehtia koirasta. Chihe antaa koiralle nimeksi Pess. Pian alkaa tapahtua kummia: Chihe huomaa kuulevansa, kuinka Pess kommunikoi ihmiskielellä. Tästä seuraakin mielenkiintoisia keskusteluja. Käy ilmi, että koira ja hoitaja haisevat toistensa mielestä yhtä kammottavilta. Pulmallisista lähtökohdista huolimatta kaksikko kiintyy vähitellen toisiinsa. Miten käy, kun Chihe huomaa yllättäen menettäneensä kyvyn ymmärtää Pessin puhetta?
Pess ei ole tyypillinen lastenelokuvan puhuva koira.
DVD-julkaisu: ainakin Japani
---
Takaisin etusivulle
---
Koiraelokuvat.info is a non-commercial, non-profit fansite for information purposes only. No copyright infringement intended. All titles, characters, cover pictures and other images are © their respective owners.