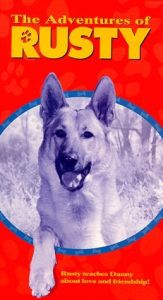 Rusty-elokuvat
Rusty-saksanpaimenkoira seikkaili lapsiystäviensä kanssa lukuisissa perhe-elokuvissa 40-luvulla.
The Adventures of Rusty (1945)
The Return of Rusty (1946)
For the Love of Rusty (1947)
The Son of Rusty (1947)
My Dog Rusty (1948)
Rusty Leads the Way (1948)
Rusty Saves a Life (1949)
Rusty's Birthday (1949)
---
Takaisin etusivulle
---
Koiraelokuvat.info is a non-commercial, non-profit fansite for information purposes only. No copyright infringement intended. All titles, characters, cover pictures and other images are © their respective owners.