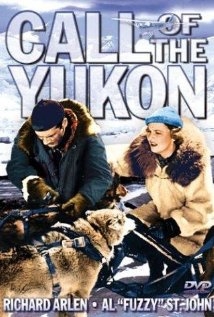 Call of The Yukon
(seikkailuelokuva vuodelta 1938)
Call of The Yukon on James "Kazan" Oliver Curwoodin suomentamattomaan Swift Lightning -romaaniin perustuva elokuva. Nuori kirjailija nimeltä Jean Williams saapuu eskimokylään Yukon-joen varrelle hankkimaan materiaalia uuteen kirjaansa. Pohjoisen alkuperäiskansojen keskuudessa elää legenda, että kerran sukupolvessa koirat ja sudet muuttuvat verenhimoisiksi pedoiksi. Kyläläisten taikausko on ruumillistunut Swift Lightingissa, pelottavan susilauman johtajakoirasudessa. Susilauma ja huononevan sään uhka ajavat kyläläiset pakosalle. Vain Jean, ansastaja nimeltä Gaston Rogers ja entisen isäntänsä hautaa vartioiva collienarttu Firefly eivät suostu lähtemään.
Swift Lightning saapuu pian tutkimaan autioitunutta kylää, kohtaa Fireflyn ja houkuttelee sen mukaansa puolisokseen. Kun olosuhteet huononevat, myös Jeanin ja Gastonin on matkattava toiseen kylään koiravaljakkokyydillä. Swift Lightning ja Firefly seuraavat valjakkoa pitkin Yukon-jokea. Kevät on niin pitkällä, että jäät lähtevät pian liikkeelle. Ihmisten kolmiodraaman lisäksi Swift Lightning saa kilpailijan sivistyneestä maailmasta tulleesta Buck-bernhardilaisesta.
DVD-julkaisu: USA, myös kokoelmassa Canines In Film
---
Takaisin etusivulle
---
Koiraelokuvat.info is a non-commercial, non-profit fansite for information purposes only. No copyright infringement intended. All titles, characters, cover pictures and other images are © their respective owners.