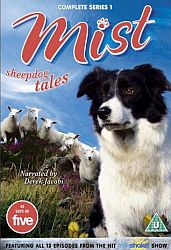 Mist - Sheepdog Tales
Mist - Sheepdog Tales on 13 jakson pituinen jatkosarja elokuvalle Mist - The Tale of A Sheepdog Puppy vuodelta 2007. Nuori bordercollie Mist on nyt lunastanut paikkansa oikeana lammaskoirana, mutta sillä on edessään vielä pitkä tie ammattimaiseksi paimenkoiraksi. Boroughin farmin eläimet ja tapahtumat aiheuttavat Mistille ja koko paimenkoiralaumalle mitä erikoisimpia pulmia, mutta kaikesta voi oppia jotakin...
DVD-julkaisu: ainakin UK (koko sarja yhdellä DVD:llä)
---
Takaisin etusivulle
---
Koiraelokuvat.info is a non-commercial, non-profit fansite for information purposes only. No copyright infringement intended. All titles, characters, cover pictures and other images are © their respective owners.