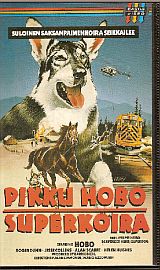 The Littlest Hobo
The Littlest Hobo-nimellä on filmattu useampaan otteeseen:
amerikkalainen elokuva vuonna 1958
kanadalainen tv-sarja vuosina 1963-1965
toinen kanadalainen tv-sarja vuosina 1979-1985

Molemmat tv-sarjat kertovat ympäri maata vaeltelevasta saksanpaimenkoirasta, joka pysähtyy toisinaan auttamaan vaikeuksissa olevia ihmisiä - vain jatkaakseen jälleen matkaansa, kunhan ongelma on selvitetty. Koiran oikea nimi ei ole tiedossa mutta ihmiset, joita se kulloinkin tapaa, antavat sille usein kukin mieluisensa nimen.

VHS-julkaisu: Suomi, nimellä Pikku Hobo - Superkoira (ainakin yksi kasetti uusimmasta sarjasta)
DVD-julkaisu: ainakin USA (kaksi DVD:tä jaksoja uusimmasta sarjasta)




---
Takaisin etusivulle
---
Koiraelokuvat.info is a non-commercial, non-profit fansite for information purposes only. No copyright infringement intended. All titles, characters, cover pictures and other images are © their respective owners.