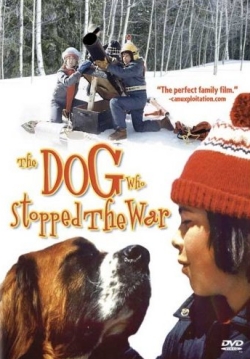 The Dog Who Stopped The War
(myös nimellä La guerre des tuques, draamaelokuva vuodelta 1984)
The Dog Who Stopped The War on elokuva erään kanadalaisen pikkukaupungin lasten lumisotapelistä. Viimeisellä koulutunnilla ennen joululomaa Luke-niminen poika esittelee sotaveteraani-isoisältään saamaansa sotatorvea. Hän saa tästä idean ehdottaa muulle lapsijoukolle leikkisotaa, jonka osanottajat jakautuisivat kahteen vastakkaiseen leiriin. Idea hyväksytään ja sodankäynnille laaditaan säännöt, jotka kieltävät kaiken ystävällisen toiminnan vastustajien kanssa.
Toinen joukkue muodostuu itsestään, kun osa lapsista vastustaa Luken itsevaltiaan asemaa. Tämän demokraattisemman joukkueen johtajana toimii Mark-niminen poika. Markin kumppanina on bernhardinkoira Cleo, joka seuraa omistajaansa uskollisesti taistelukentälle. Markin joukkue rakentaa tukikohdakseen nerokkaasti varustellun lumilinnakkeen, jonka valtaamiseen ja puolustamiseen koko sodankäynti keskittyy.
Kaikki lapset eivät kuitenkaan halua osallistua sotimiseen, vaan toimivat puolueettomina tarkkailijoina. Cleokaan ei ymmärrä yht'äkkistä vihanpitoa kunnian puolesta. Joululoman viimeisenä päivänä Mark jättää Cleon mielummin kotiin valmistautuessaan suureen lopputaisteluun. Cleo ikävöi isäntäänsä ja lähtee kohti lumilinnaketta. Lopulta viattoman siviiliuhrin kuolema lopettaa sodan.
TV-esitys Suomessa: nimellä Lumisota
DVD-julkaisu: ainakin USA
---
Takaisin etusivulle
---
Koiraelokuvat.info is a non-commercial, non-profit fansite for information purposes only. No copyright infringement intended. All titles, characters, cover pictures and other images are © their respective owners.