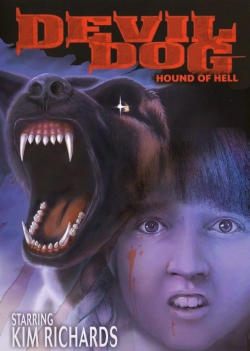 Devil Dog - The Hound of Hell
(kauhuelokuva vuodelta 1978)
Devil Dog - The Hound of Hell on elokuva pirullisesta saksanpaimenkoirasta, joka pystyy manipuloimaan ihmisiä ja asioita pelkän katseen voimalla. Amerikkalainen Barryn perhe hankkii pahaa aavistamatta uuden koiranpennun, jolle annetaan nimeksi Lucky. He eivät tiedä, että erään kulttiyhteisön tuottama Lucky on perinyt isänsä saatanallisen sielun. Koiran ajoittain hehkuvat silmät paljastavat sen julmat aikeet, mutta vain perheen isä ja taloudenhoitaja näkevät Luckyn katseessa jotain epäilyttävää. Luckyn läsnäolo tuottaa outoja onnettumuuksia ja Saatanan kannattajiksi aivopestyjä ihmisiä. Barryn perheen isä, "Valittu", ymmärtää, että paholaiskoiran tuhoaminen on välttämätöntä ennen kuin se ehtii ottaa todellisen muotonsa.
TV-esitys Suomessa: nimellä Pirun koira
DVD-julkaisu: ainakin USA
---
Takaisin etusivulle
---
Koiraelokuvat.info is a non-commercial, non-profit fansite for information purposes only. No copyright infringement intended. All titles, characters, cover pictures and other images are © their respective owners.